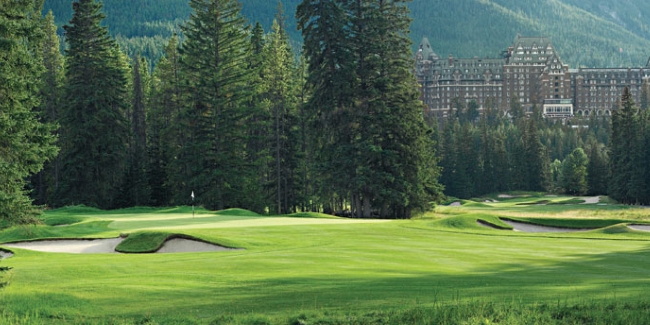 Golf in Banff Canada
Happy 125th birthday to Banff Springs Hotel
By Larry Berle
"It's on the roof of the world, the golf is excellent and the scenic surrounding is unsurpassed in beauty." -Chick Evans

For several years now I have tried to get to Banff and something got in the way every time---- until now. It was worth the wait!!!

Banff may be one of the most breathtaking spots in North America, nestled into the Western Rocky Mountains of Canada. Its about 60 miles west of Calgary - so it is easily accessible.

There is lots of golf in this area but the standout here is Banff Springs Golf Club sitting in the valley just below the Banff Springs Hotel, which is celebrating its 125th anniversary this year.

Stanley Thompson, Canada's leading golf course architect, designed the original 18 holes in 1928. The course winds along the Bow River (holes 8-13 are right on its shores), all this under the occasionally snow-capped peaks of Sulphur Mountain, Mount Rundle. and Tunnel Mountain. In 1989, an additional nine holes was added. But if you are coming here, lets be real, you want to play the Stanley Thompson course. From the actual hole design to the optical illusions created by the surrounding mountains, this Alberta golf course will delight and tempt you.

This par 71 course has five par threes and four par fives. The front 9 has three par threes, three par fours and three par fives. For years I have been a proponent of this proportion, because normally Par fives and Par threes are the most interesting holes, and Stanley Thompson does not disappoint.

Perhaps the most impressive feature of the course is the exquisite nature of Thompson's bunkering and this course has over 150 bunkers, so you better have an accurate day if your goal is to stay out of them. "Stanley Thompson was really known for his bunkering - and we've been told that these are the best examples of Stanley's bunkers here at the Banff Springs," said Steven Young the Banff Springs Director of Golf. But If you avoid every bunker on the course you may rankle Stanleys ire, if he were still alive to be rankled. I don't think there is bunkerless hole out here. and on number eleven I counted over 14 of these monsters.

On number three the sheer cliff of Mount Rundle hovers over the green and depending on the shadow, can change the apparent color of the green to blue.

Number four, The "Devil's Cauldron," as it is affectionately known, is a 190 yard par-3, over water, voted one of the best 18 holes in the world by Golf Magazine in 2000. Its guarded by 6 bunkers, standing in the shadow of Mount Rundle. This is often referred to as the signature hole. However, I think that par 3 number eight, should be the signature hole 160 yards over a pond with the shores of the Bow River to your right.

Sometimes its a challenge just to concentrate on the golf course you are playing. The majestic mountains, sheer rock cliffs and towering lodgepole pines lining the fairways of this course, demand your attention. A high flying shot against a wooded mountain side is just plain breathtaking.

Some might even say its like playing in a backyard. But whose backyard is it? The greens keeper, who lives on site, might argue it's his. He is on it every day and the condition of the course shows it.

Others might argue its the backyard of the wildlife of Banff Park. Many of them also spend everyday here. Deer, Bear, Elk, Moose and an occasional Coyote or Cougar are often seen on the course. Although we didn't see any of them today, I know they were there because my ball was in an elk footprint in a bunker more than once.

The fairways are fabulous and the greens ran true and quick-- and they are large. Most of the greens are 35 to 40 yards deep which can mean a 3 club difference in shot selection for your approach. A day here with no three putts would be a good day indeed.

If these massive stone walls and majestic mountains aren't enough to take your breath away then when you stand on the 14th tee box this view of the Colossal Banff Springs hotel will. Enough said-- you will just have to stand here and see for yourself.

Number fifteen tees off by at the foot of the hotel nearly 200 feet above the fairway. A good tee shot here is not only a thing of beauty as it framed by the mountain, but it has hang time that would make an NFL punter proud
On number 16 Stanley placed a horseshoe bunker in front of the green, his subtle way of wishing us good luck as our ball carries over it.

Then finally this special day cames to an end. I shook hands with my 3 playing partners from Calgary, John, Barry and Grant and then silently paid tribute to Stanley Thompson for his vision in putting a golf course in this beautiful park.

More Information
www.fairmontgolf.com/banffsprings
Phone(s): (403) 762-6801

There are several other wonderful courses in the area for more information visit
http://www.canadianrockiesgolf.net.




Revised: 03/03/2014 - Article Viewed 28,674 Times
About: Larry Berle
---

A Golfer's Dream is Larry Berle's first book. In his previous career, Larry owned SRO Productions in Minneapolis, Minnesota; a company specialized in concert promotion, event management, and CD compilations for radio stations. He worked with many artists, including Andy Williams, Tony Bennett, George Winston, Yanni, B.B. King, James Taylor, Bill Cosby, and Sinbad. After 31 years in the business, Larry sold SRO in 2004. He still produces small theatrical plays occasionally but spends most of his time playing, and writing about, golf.

Larry was introduced to the game by his wife Annie in 1990 and has been an avid fan and player ever since. Annie took him to Pebble Beach for his birthday in 1992 where the dream to play the Golf Digest Top 100 was born. What is truly amazing about Larry Berle is not only that he achieved his quest but also that he published this book. In June of 2006, with 90 percent of the first draft completed, he suffered near-fatal injuries as a result of a bicycle accident in Minneapolis. He lay in a coma for nearly two weeks and was hospitalized for two months. Larry not only survived but made a full recovery and regained his fabled drive and ability to concentrate. After months of therapy, he was able to complete and publish A Golfer's Dream, a testament to his remarkable achievements in golf and in life. A slightly above-average golfer (handicap index of 11.9), Larry has no handicap in networking and is not afraid to ask for help, especially when it comes to playing Top 100 golf courses.

---
More Articles by Larry Berle
More Related Articles